The student movement appeared early on in the city's streets, advocating academic and various other demands and instituting a dynamic factor in the public arena. he student struggles of the institution's early years were associated with the Great Idea and the fight against King Otto. In recognition of their contribution to the latter, in 1862, following Otto's ousting, the University Phalanx, was formed, the first and single body of armed students. At the end of the 19th century, the student body defended Katharevousa (the scholarly Greek language), demonstrating passionately against the demotic Greek and participating in two of the most famous incidents in the history of the university, the Evangelika (1901) and Oresteiaka (1903).
In the interwar period, student unions and political factions were introduced, in the way we know them today, as a result of the emergence of left-wing ideas. The student body was hereafter much more political and at the same time much more disapproving of the university itself. During the Occupation, thousands of students joined the national liberation struggle in many ways. In the post-war period, students appeared on the streets, again on the occasion of the Cyprus issue. At the same time, in the 60s, their participation impacted the struggles for Education and Democracy. Their contribution to the downfall of the seven-year dictatorship, with actions such as the student strike and the takeover of the Law School in February 1973, determined the student movement's strong presence during the Transition to Democracy years (Μεταπολίτευση).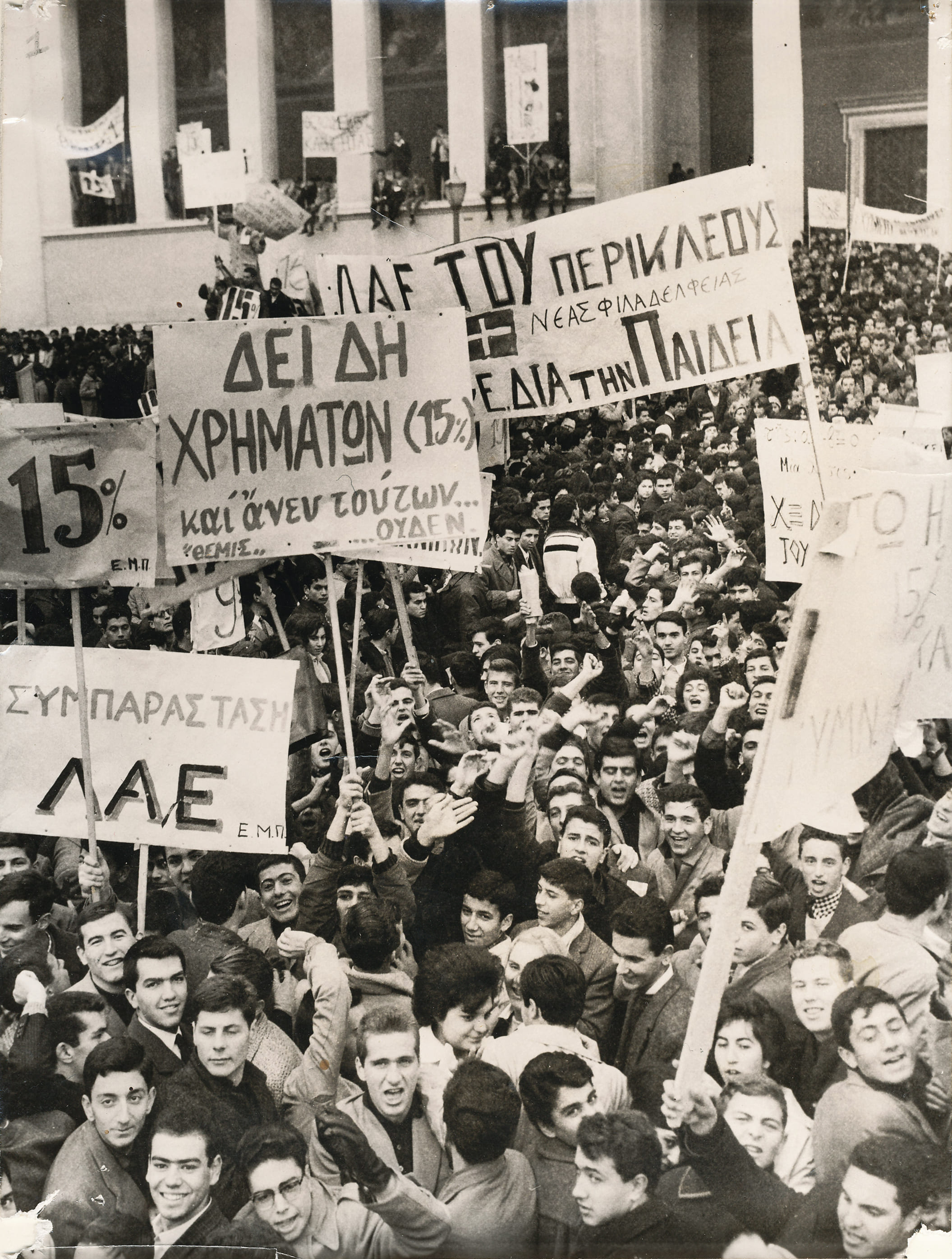 «They were gathered at the Propylaea, with their flags, banners, and signs, on the street and the sidewalks, ten thousand boys and girls, the blossom of our country, the hope of tomorrow. Their passion went hand in hand with their concern not to give an excuse to the provocateurs or the Police to spoil the momentum of the demonstration. [...] Amid the shouts and the shoving, I had to explain what Papandreou's educational reform signified, what the 15 percent dowry for Education meant, and what 1-1-4 was all about. The recent struggles and sacrifices of the Lambrakis youth and the democratic youth came alive before our eyes. Thousands of mouths were demanding in unison, «Out with the Court's slaves. Down with the traitors. Democracy».

Stratis Tsirkas, "The Lost Spring", Leap Years, Kedros. Κέδρος, Athens (1976) 2011.