From the Struggle for Independence to the cultivation of knowledge.
The University of Athens in the newly established state.
The History Museum, in collaboration with the Historical Archives of the University of Athens, organizes the 6th Student Competition for secondary education students (gymnasium-lyceum) of the prefecture of Attica (including the islands of the Saronic Gulf).

This year's competition is held under the auspices of the «Greece 2021» Committee.

The competition's theme is inspired by the celebration of the 200 years (1821-2021) of the Greek Revolution and the Struggle for Freedom of the Greeks. As early as the Revolutionary years, there had been intense discussions and deliberations regarding the establishment of the University, which was considered the fundamental pillar for the cultivation of knowledge after liberation. In the period 1828-1831, during the brief governance of Ioannis Kapodistrias, functioned the first peer teaching schools, but the request for the establishment of a university did not follow through. In 1837, seven years after establishing the independent Greek state (1830) and three years after moving the capital from Nafplio to Athens (1834), the country's first university was founded by Otto.

In collaboration with the Historical Archives of the University of Athens, the History Museum invites secondary school students to take note of the messages of that time and interpret in their own way the anniversary's symbolism and its significance for our country. More specifically, the two institutions aspire to correlate the Struggle for Freedom with the desire for the cultivation of knowledge and the Revolution of 1821 with the values of Higher Education.
Free participation
For the announcement of the competition, click here
For the participation form, click here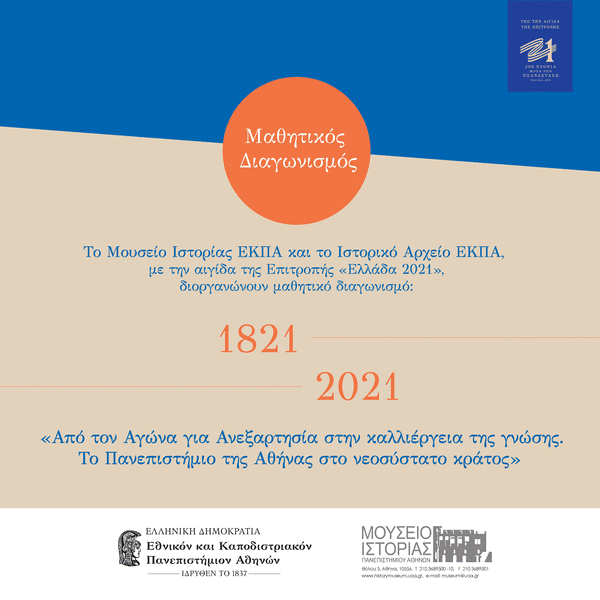 For the Ministry of Education's approval of the competition, click here

Relevant bibliography on the 6th Student Competition, click here